In this article, we will cover how Maya simplifies data management, provides actionable insights and helps you make data-driven decisions to boost your marketing performance. From connecting your data sources and creating clusters, to setting up reports and monitoring expenses, we'll guide you through the process of getting started with Maya.
So, whether you're new to the world of marketing data or looking for ways to improve your current process, this article is for you. Get ready to unlock the full potential of your marketing data with Maya!
Maya is a marketing platform that provides a comprehensive solution for managing and analyzing your marketing data. It allows you to easily connect and integrate data from multiple sources, such as Google Analytics, AdWords, Facebook, LinkedIn, TikTok,Search Console and more, providing you with a unified view of your marketing performance.
The platform is designed to streamline your marketing data management and analysis. One of its key features is its ability to automatically unify data from multiple sources, formatting it consistently and making it ready for analysis, eliminating the need for manual data cleaning and processing, and saving you a significant amount of time and resources. Maya's cloud serverless architecture also allows for efficient storage and processing of large volumes of data, making it easy to handle large data sets.
Not only does Maya simplify data management, but it also provides technical services such as marketing data warehouse development and implementation of the Maya semantic model through Microsoft Analysis Services, giving you a centralized and organized view of your marketing data and making it easy to track performance & make data-driven decisions. To ensure data reliability, Maya uses a test-driven ELT pipeline, thoroughly validating data before it is loaded into the data warehouse, and providing a pre-made data schema to make it easier for engineers and analysts to collaborate. Furthermore, Maya's compatibility with Google BigQuery allows for seamless integration with any existing infrastructure, enabling your team to connect it to your existing data and start analyzing it right away.
With this understanding of what Maya is and how it can help you manage and analyze your marketing data, you're ready to get started with setting up the platform. In the next chapter, we'll guide you through the process of setting up your account, so that you can start using Maya to its full potential!
We'll cover connecting your data sources, organizing this data into clusters, setting up the Competition report, uploading manual expenses, and configuring your PageSpeed report. By the end of this chapter, you'll be a Maya pro, ready to start using the platform to boost your marketing performance.
Connect your Data Sources
Connecting your data sources to Maya is the first step in getting started with the platform. It's easy and straightforward – simply go to the "Sources" tab, click "Add Source," and connect the accounts you need.
Maya supports a wide range of data sources, including Google Analytics, AdWords, Facebook, LinkedIn, Hubspot, and many more. In case you don't find a source that you need, you can always check out our documentation page, where we constantly update the list of available sources and the ones that are being prepared by our team.
Additionally, if you have any manual files that you would like to include, you can always upload them in the Manual Uploads section. This is useful in case you need to include data from a data source that we do not support yet.
You can easily connect your Source with just a few clicks, then select the specific accounts you'd like to integrate and you are done!
After connecting your sources, you'll need to wait 1-3 hours (depending on the size of your data set) before your data is loaded for the first time. You'll receive an email notification when the process is completed, but you can also check the "Data Load" tab to see the progress. Once your data is loaded, all the related reports will be populated with your own data instead of demo data. Keep in mind that, depending on the data you've connected, the time it takes for your data to be loaded may vary.
The next step after connecting your data sources is to create your Clusters. Clustering is a powerful technique that organizes large amounts of data into smaller, more manageable groups. It's like decluttering your closet, you group similar items together and suddenly everything is more organized, easy to find, and makes more sense. This process is often used to identify patterns and trends within large data sets that can be difficult to analyze on your own. This is a key step in the Maya setup, as it allows you to use the tool to its full potential by providing you with a more granular and actionable view of your data.
Clustering your marketing elements can help you to better understand your audience, your marketing performance, and how to optimize your strategy to achieve your goals. By breaking down your data into smaller groups, you can gain insights that would have been impossible to uncover by analyzing the data as a whole. Furthermore, by using clustering, you can create more accurate and relevant reports that can help you to make better data-driven decisions. This can be especially useful for high-level marketing executives who need to maximize growth and return on investment through data-focused marketing.
In Maya, you can use Clustering to segment your most important information. Right now, you can Cluster the following:
To create a cluster rule, you only need to use AND/OR conditions on a name, service type, amount of a specific measure, etc., and then assign a value to this grouping. You can also use other cluster values to fully customize your clusters specifically for your business. For example, you can group campaigns based on their scope, queries based on the user's intent, or even create a word group with all the typing variations of your brand name.
Using the naming convention you have chosen, you can cluster your campaigns based on their scope, the service, the region they are running in, etc., by applying simple AND/OR conditions.
Knowing your competition is a key aspect of any marketing strategy. With the Competition Report in Maya, you can now easily track and analyze the performance of your competitors on a set of specific search terms. This allows you to identify areas where you are outperforming your competition, as well as areas where you may need to improve your strategy.
Setting up the Competition Report is super easy. First, you'll need to go to the "Competitors" tab in Maya. From there, select a Google Ads or Search Console account in a specific country as your source of information. Next, you'll configure the set of search terms that you want to analyze. You can either choose your branded search terms or a specific Query Cluster that you have created.
Once you've set everything up, the report will be calculated once per month starting from the day you first set it up. This way, you'll be able to track your competitors' performance over time and make any necessary adjustments to your own SEO & SEM strategy.
For the Competition Report, you can choose to crawl either your branded search terms or any other cluster you have created in your Queries Clusters.
Configure PageSpeed Report
The final step in setting up Maya is to configure your PageSpeed Report. This report allows you to monitor the performance of your website pages and identify areas for improvement. To set it up, simply head to the "PageSpeed" tab and enter the URLs that you want to monitor. It's that easy!
Once you've added your URLs, the report will examine them using three sources of information: Google Lighthouse Lab Data, Google Chrome UX Report (CruX), and Google Analytics Site Speed. This comprehensive analysis will give you a detailed view of your website's performance and help you identify areas for improvement. With this report, you can optimize your website's speed and user experience, leading to better engagement and conversions. Don't forget to read the related article about why Page Speed matters and how can Maya's report help you.
Simply copy the URLs you want to monitor in your Page Speed Report and paste them on the setup page.
Having a clear and complete overview of your marketing expenses is crucial for making data-driven decisions and optimizing your strategy. This includes expenses not just on digital platforms, but also offline expenses such as those incurred through working with influencers or running TV ads. In Maya, it's easy to keep track of all your expenses, both online and offline.
To add manual expenses in Maya, simply go to the Manual expenses tab, select Add expenses, and fill in the available fields such as payment date, amount, category (reported as "campaign"), subcategory (reported as "ad group"), currency, and if it is marketing-related. You also have the option to add an expense period, which is the time frame over which the expense will be reported to have an effect.
Input any offline expenses in Maya, such as influencer fees, TVC and radio expenses, outdoor advertising costs, etc.
After setting up your data sources and creating your Clusters, it's time to dive into the heart of Maya: the Reports. Maya's default reports are designed to help you tackle the most common problems faced by marketers, by providing you with simple visualizations that allow you to answer questions immediately, accurately and visually. All of these reports are built on MS Power BI, a user-friendly business intelligence tool that eliminates the learning curve and allows you to easily understand and manipulate your data.
Maya's Default Reports are designed to help marketers solve their most common problems, using simple visualizations that allow users to answer questions immediately, accurately, and visually.
One of the key benefits of these reports is their granularity. They provide a macroscopic view of your data, by using your metrics and the clusters that you have defined, but also allow you to drill down to a detailed level to solve specific problems.
Additionally, these reports can be used as templates to create your own custom reports, offering even more flexibility and control over your data analysis.
Maya's Default Reports include Analytics, Apps, Attribution, Competition, SEM, SEO, Speed, and Spend. Each report is tailored to provide you with specific insights into different aspects of your marketing efforts. For example, the Analytics report gives you an overview of your website's performance, while the SEM report focuses on your Search marketing efforts.
The Analytics report in Maya provides you with an in-depth view of your website's performance by displaying key metrics such as sessions, conversions, bounce rate and more. This report is an integration of your regular Google Analytics data, allowing you to easily track and analyze website activity, user behavior and conversion data all in one place. By using this report, you can gain a better understanding of how your website is performing and find areas that need improvements based on your metrics.
The Apps report is an essential tool for mobile app marketers, it provides an all-in-one view of your app's performance on the Google Play store. It displays key metrics such as reviews, ratings, and installs, all in one place, making it easy to track your app's performance over time. This report is perfect for monitoring user engagement and understanding which features are most popular, in order to optimize your app's performance and increase user retention.
The Attribution report is a powerful tool that allows you to understand the impact of your marketing efforts on your business's performance. It extracts key metrics from attribution-based platforms, such as Adjust, and presents them in a way that is easy to understand. By providing insights on growth metrics and KPIs, this report helps you better understand your marketing attribution and make better use of your budget allocation.
The Competition report gives you a detailed view of how your business stacks up against your competitors in terms of search engine rankings. You can see where you rank for specific search terms (branded or not), and track changes month over month. This report is calculated once per month, starting from the day it is set up, giving you a comprehensive view of your competition's performance.
Maya's SEM Report provides an in-depth analysis of your search engine marketing campaigns, including metrics such as click-through rate, cost per click, and conversions. The report allows you to drill down your search efforts by time, campaign, landing pages, and queries to fully understand your results and identify areas for optimization. With this report, you can quickly and easily monitor your SEM performance and improve your strategy on the fly.
Maya's SEO Report provides a comprehensive view of your website's organic performance. By using data from your Google Search Console, it groups your metrics by query clusters, landing pages, country, or even device, giving you an in-depth understanding of your website's performance. With the ability to drill down into specific areas, this report allows you to easily identify areas for improvement and track your organic growth.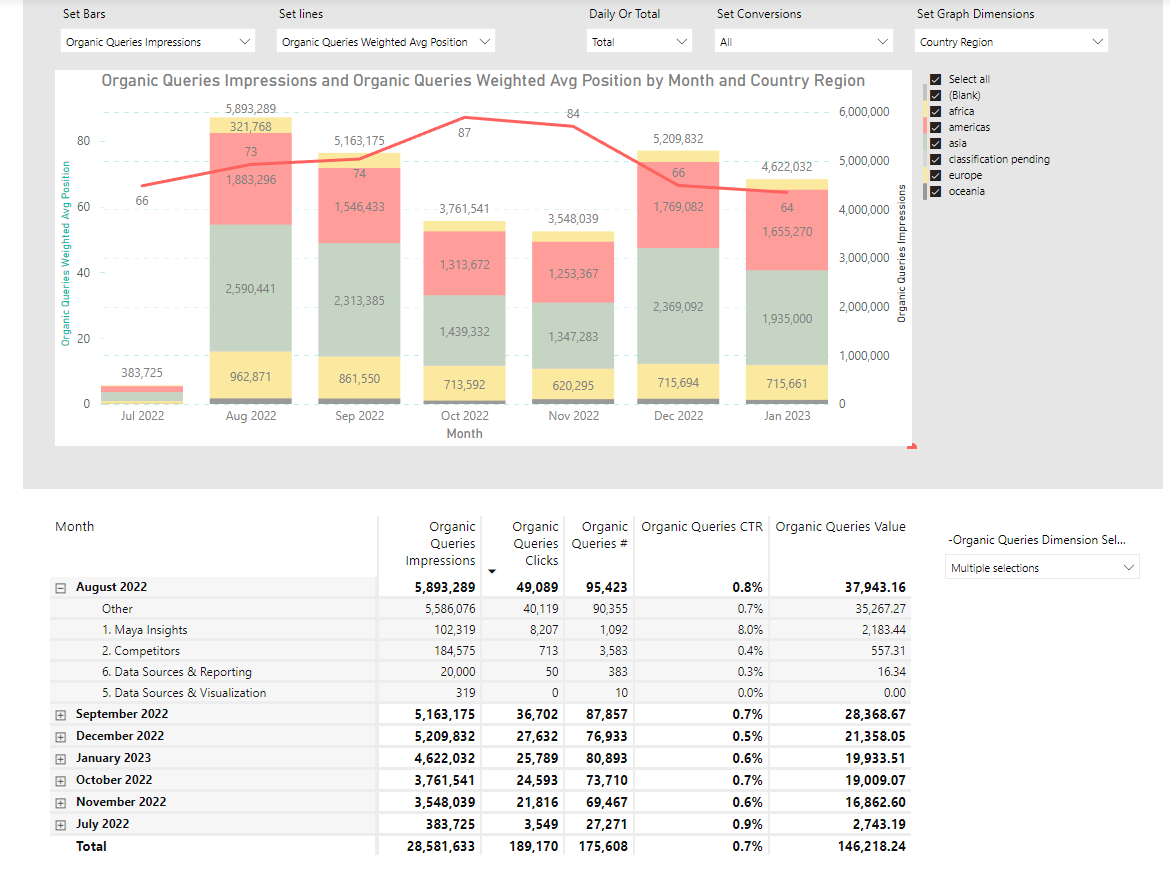 The Maya Speed Report is a comprehensive analysis of your website's performance, utilizing data from three reliable sources – Google Lighthouse Lab Data, Google Chrome UX Report (CruX), and Google Analytics Site Speed. This report provides detailed insights on page load time, performance score, first contentful paint, and more, allowing you to identify opportunities for improvement and take action to ensure your website is fast and responsive. With this report, you can easily track the progress of your website's speed, to ensure that you provide the best user experience possible.
The Spend report provides a comprehensive view of all your marketing expenses, both digital and offline, in one convenient location. This report is crucial for any marketer as it allows for easy monitoring of expenses, with the ability to drill down for more specific details. Additionally, it provides a clear picture of where your money is being allocated, making it a powerful tool for budget management and ROI analysis. With the Spend report, you'll always be in control of your marketing spend and able to make data-driven decisions.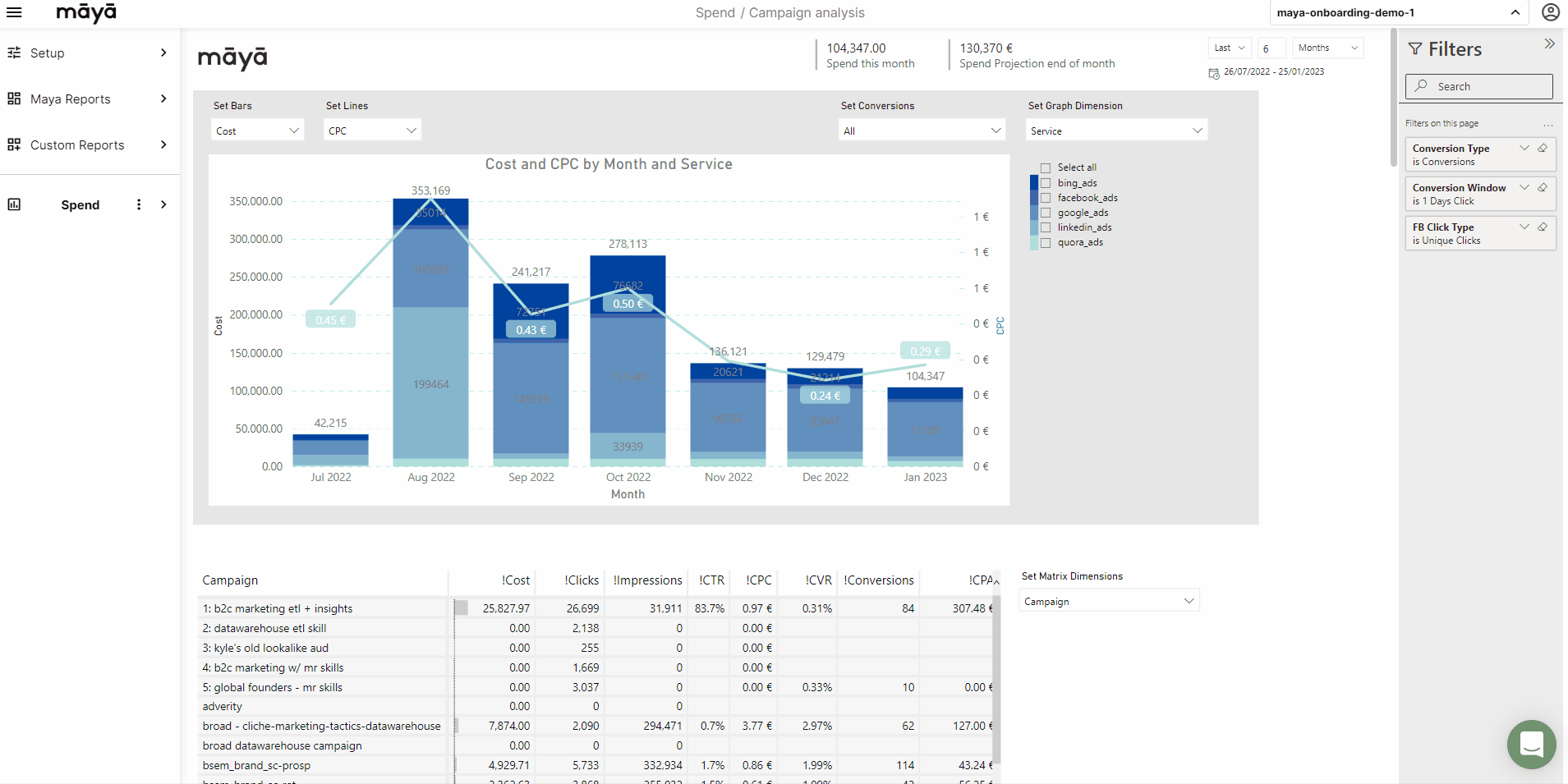 Why customize the reports?
With Maya's pre-made reports, you have access to a wealth of valuable information, but sometimes you may need to go beyond the standard offerings and create your own custom dashboards. Whether you want to track specific metrics that aren't included in the default reports, or you want to visualize your data in a way that's unique to your business, the ability to create custom reports is essential. With Maya's "Edit Functionality", you can easily customize any of the default reports, that we mentioned earlier, to fit your specific needs. You can plot any measure, create various visualizations, and seamlessly combine data from any integrated source. This powerful feature allows you to tailor your reports to your exact specifications, ensuring that you have the most relevant and valuable information at your fingertips. In the next section, we'll walk you through how to create your own custom reports using Maya's Edit Functionality.
How to customize the reports in Maya?
To create a custom report using Maya's Edit Functionality, you'll need to follow these simple steps:
Go to any default dashboard report of your choice.
Click on the 3 dots icon next to the report's name and then "Edit", to activate the edit mode.
Make any desired changes to the report, such as adding or removing metrics, changing the visualization, or applying filters.
Once you're satisfied with your changes, go to the "File" menu and select "Save As".
Give your custom report a name and hit "Confirm".
By creating custom reports, you can gain a deeper understanding of your business and make more informed decisions. You can also share these reports with your team, stakeholders, or clients, giving them a more detailed and accurate view of your performance. Custom reports also allow you to identify trends and patterns that may have been previously hidden, providing you with insights that you may have otherwise missed.
Creating your own Report is pretty easy and you can make any adjustments that you need in terms of data, visualizations, format, branding, etc.
In addition to its powerful features, Maya also offers a variety of support and resources to help users get started and troubleshoot any issues they may encounter. These include:
The Documentation Page, which provides detailed information about the platform, including the measures used, dimensions, and more.
A live support chat, which allows users to connect with Maya's customer support team in real-time.
The MayBot, an AI-powered assistant that can help you get quick answers to any marketing data questions you have. Simply install the Maya app on Slack and you'll be able to chat with her directly in your workspace. Maya is able to understand your questions and provide accurate responses, or even transform your input into SQL queries.
With these resources at their disposal, users can feel confident that they have the support they need to get the most out of Maya. Whether you're just getting started with the platform or need help troubleshooting an issue, these resources will help you stay on track and achieve your marketing goals.